The Artist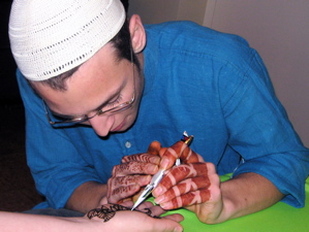 One of the questions I am asked most frequently is, "But you're not Indian! How can you do henna?"

My answer, if I'm feeling a little snarky, is something like "Do you have to be Italian to eat pizza?". But I do have a serious answer — henna is an art form that belongs to anyone who accepts it with an open mind and a loving heart. After all, henna is not only Indian but also Moroccan, and also Saudi, and Turkish, and Yemeni and Kurdish and Iranian etc... Henna is not restricted to any one time or place. I see myself continuing and expanding upon a vast line of tradition that connects me to the ancient world and to people across the globe today. I try to preserve the beautiful history and traditions of henna while at the same time being open to creating new traditions and uses.

I fell in love with the art of henna while exploring Indian culture. I loved the way it looked, and began to get hennaed every opportunity I had. Once I realized that it would be cheaper, easier, and more rewarding to do it myself, I began to teach myself. I am fascinated by the differences and similarities in henna traditions from around the world, and the way that henna is being adapted to non-traditional mediums like Celtic and Chinese art.

One of my particular areas of interest is the use of henna in Jewish communities throughout the world and across time. Many Jewish communities have deep links with henna use and traditions that are now in danger of being lost. As well as being used for weddings in many Jewish communities across North Africa, the Middle East, and Asia, there are also uniquely Jewish henna ceremonies for b'nei mitzvah, holidays like Purim and Pesah, and other life-cycle events and transitional rituals. I spent a year in Israel conducting fieldwork with henna-using Jewish communities, and analyzed my research in an award-winning honours thesis entitled "Old Patterns, New Skin: Jewish Henna Ceremonies and the Politics of Heritage".

---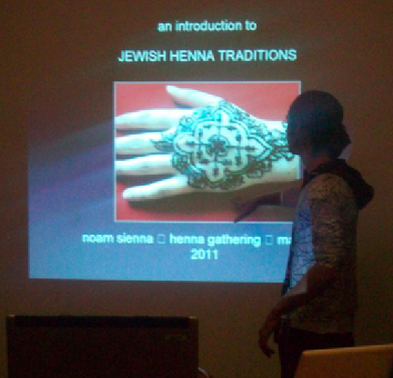 I have spent a great deal of time researching and writing about Jewish henna use, and have presented about it at a variety of venues, such as:
National Havurah Committee Summer Institute; Combined Jewish Philanthropies of Boston; Limmud conferences in the UK, Atlanta, New Orleans, and Boston; the Miles Nadal Jewish Community Centre in Toronto; Young Judaea Year Course in Jerusalem; henna conferences like Henna Gathering in Rhode Island, HennaCon in California, Polar Sling in Minneapolis, and Henna Chai in Baltimore; Hillel organizations at Brandeis University and Tufts University; and the Paul Penna Downtown Jewish Day School of Toronto.
I would be happy to present my research at any event and can tailor my presentation appropriately according to the audience.
I also have two books of Jewish designs adapted for henna artists, available for sale at
Henna Caravan
.
Mazal Tov
, Vols. 1 and 2, offer simple henna designs based on Jewish symbols and Hebrew calligraphy. Perfect for henna artists who find themselves at Jewish weddings, bar or bat mitzvah parties, Hillel events, and more! Check them out!
As a student of Anthropology, I am very interested in the connection between identity and external presentation, and body art in particular. Skin is the boundary between the inner world of the mind and the outer world of nature: what anthropologists call a liminal zone. Body adornment (jewelry, clothing, art, etc.) can be seen as an attempt to mediate this boundary and project some of that inner world outward. In this way it touches on the subject of communication, which was my area of specialty in Anthropology.

As Victoria Ebin writes in her book The Body Decorated, "The body is the physical link between ourselves, our souls, and the outside world. It is the medium through which we most directly project ourselves in social life; our use and presentation of it say precise things about the society in which we live, the degree of our integration within that society, and the controls which society exerts over the inner man."

Henna presented itself to me as a way to explore this dynamic, as a body art rich in tradition, culture, and promise; ever-changing and adaptable. I am grateful for this opportunity to create beauty and touch lives.